~Established in 2009~
Our Mission:
It is the mission of Breaking Pointe Dance Studio
to provide a professional dance program, where children
can develop coordination, flexibility, creativity,
and dance technique.
In addition, students are given the opportunity to
develop positive self-esteem, discipline, body awareness,
and social skills.
It is the philosophy of Breaking Pointe Dance Studio
to teach students about all types of dancing, theater etiquette,
stage presence and a sense of inner beauty.
~~~~~~~~~~~~~~~~~~~~~~~~~~~~~~~~~~~~~~~~~~~~~~~~~~~~~~~~~~~~~~~~~~~~~~~~~~~~~~~~~~~~~~~~~
About the Owner/Director:
Founder and Artistic Director, Amanda Bento is a graduate of Dean College
School of Dance, one of the most highly respected dance
colleges to study and train in.
With many years of experience, Amanda has studied along side of
nationally recognized instructors in Ballet, Pointe, Lyrical, Jazz,
Tap, Hip Hop, Modern and Contemporary.
After graduating from Dean, Amanda moved out to California to pursue her
studies in dance at the University of California, Irvine.
She has also worked alongside Brian Friedman, Wade Robson, Cris Judd,
Shane Sparks, Disney Parades and many more.
In addition, Amanda previously coached the UMass Dartmouth Dance Team
for five years. The dance team had placed first and
second in all categories at regional and national competitions.
Amanda has extensively taught and choreographed throughout Tiverton and
Fall River area for numerous years. In addition, she has studied in Boston
and New York City attending many conventions and classes to keep up-to-date
with new and ground-breaking techniques.
Now, Amanda has started a new chapter of her life...Breaking Pointe Dance Studio
is filled with the latest and most current, creative, innovative, and
trend-setting choreography, along with traditional skills and technique classes.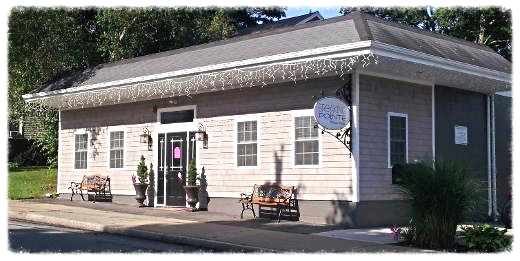 STUDIO DESCRIPTION:
~Two Full Dance Studios~
(with a total of over 3000 sq. ft.)
~Separate Lobby/Waiting Area~
~Fully equipped for viewing both studios from the lobby monitors~
~Two ADA Bathrooms~
~Full office & Off-street parking
~Conveniently located in the South End of Fall River...with easy access to Rt. 24 and I-195.